The weekly events open using the button on the right hand of the screen

.
.
This opens the event page which varies week to week. Follow the rules of the event to gain extra silver each day.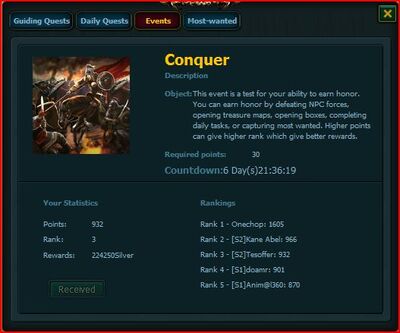 .
.
.
.
.
.
.
.
.
.
.
Be Great - This event is a test for your ability to earn RP. You can earn Rp by defeating players,IE: capturing in most wanted or attacking direct. Obviously satanic players give more Rp in direct attacking if full troops.
Be rich -------------- Gain points for gaining silver by any means (including degrading equipment)
Be strong ---------- You will receive points every time when you enhance your Equips. the better the equipment the more points per upgrade.
Hero after Hero - Each time when any one of your heroes is leveled up, you will score corresponding points. (1 level = 4 points)
Hidden tigers - Every half an hour, there will be one random special Elite Force. Their declaration is: "To earn score, you must defeat me first!" Winners will get score; Losers get no score. There is no times limit in attacking this special Elite Force.(1 kill = 4 points)
Three Kingdoms - You can gain score when winning against players from other nation. The stronger the player you've defeated the more points you will obtain. (must attack them, NOT use most wanted, to gain score)
Conquer -------------- This event is a test for your ability to earn honor. You can earn honor by defeating NPC forces, opening treasure maps, opening boxes, completing daily tasks, or capturing most wanted.
Stock Forage ------- This event is for testing your Forage supply ability. When you gain Forage by farming or purchasing from the market, you will get points.
Ad blocker interference detected!
Wikia is a free-to-use site that makes money from advertising. We have a modified experience for viewers using ad blockers

Wikia is not accessible if you've made further modifications. Remove the custom ad blocker rule(s) and the page will load as expected.