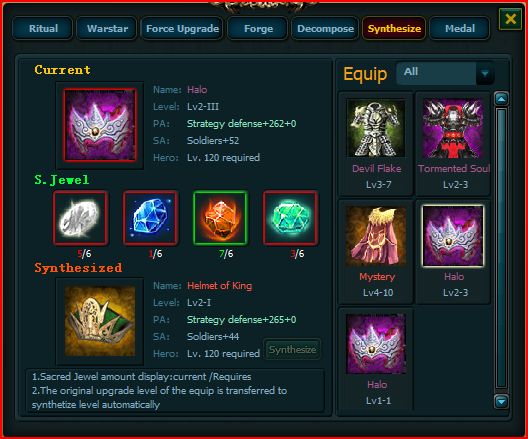 Under the Armory tab the Synthesize screen becomes  available at level 100.
Here you can upgrade all your Purple or better grade items to the next grade for Sacred jewels.
.
.
.
.
.
.
.
.
To upgrade items, they cannnot be equiped on a hero.
Then you will need the correct amount of EACH sacred jewels. the 4 jewels are from left to right are
White tiger
Saint tortoise
Saint rosefinch
Azure Dragon
These can be aquired from
Digger
bought in black market for gold/silver
exchanged for 60 medals for each one

Each item will need an equal amount of each jewel. To check how many just click on the item.
The number to the right is the amount you need, the number to the left is how many you have.
If it lights up green you have enough of that jewel to synthesize that item. If all 4 are green then the synthesize button will light up and the you can upgrade the item.
A purple Item will take from 6 to 10 of each jewel to upgrade orange.
An orange item will take from 45 to 50 of each jewel to upgrade to pink.
Ad blocker interference detected!
Wikia is a free-to-use site that makes money from advertising. We have a modified experience for viewers using ad blockers

Wikia is not accessible if you've made further modifications. Remove the custom ad blocker rule(s) and the page will load as expected.