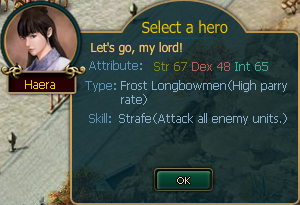 Haera is probably one of the best starting heros you can pick.
With her high parry rate and her skill of Strafe there are not many others in the start list as good.
Even later on in the game you will probably still have her and her troops in your lineup.
She really starts to shine when teamed with dancers and/or drummers.
Ad blocker interference detected!
Wikia is a free-to-use site that makes money from advertising. We have a modified experience for viewers using ad blockers

Wikia is not accessible if you've made further modifications. Remove the custom ad blocker rule(s) and the page will load as expected.