Note that the maps contain only the equipment Continusly dropped by fights and not the clearance special drops.
They also only show names on specials, ie, those fights that drop equipment OR give a new hero that will join you.
The other fights are not worth noting that way, and you are not likely to go back to them except to gain honor.
Middle Earth
Edit
World Maps
Edit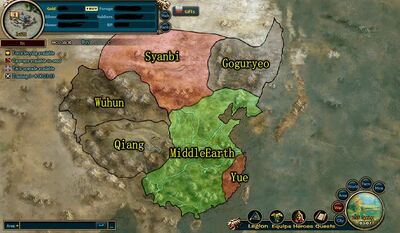 .
.
.
.
.
.
.
.
.
Goguryeo: requires min 1,000,000 Rp (opened march 5th 2014)
Lelangee ........ requires: (Conquered Szetowgee) and 1,000,000 Rp
Chinfowgee .... requires: (Conquered Lelangee) and 1,100,000 Rp
Lantongee ...... requires: (Conquered Chinfowgee) and 1,200,000 Rp
Wuhun
Qiang
Pages in category "Maps"
The following 39 pages are in this category, out of 39 total.
A

C

D

E

G

H

H cont.

J

K

L

M

O

Q

R

S

T

W

Y
Ad blocker interference detected!
Wikia is a free-to-use site that makes money from advertising. We have a modified experience for viewers using ad blockers

Wikia is not accessible if you've made further modifications. Remove the custom ad blocker rule(s) and the page will load as expected.