&nbsp
Kanestock is the special battle for
Ryeshock
map.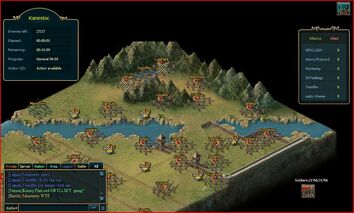 There are 27 enemys here to take out. Most of the higher forces from Ryeshock map.
Rewards here are better than Museton and Swinleigh.
tips to beat
Edit
position 6Edit
Should be your strongest player.
Their job is to race from where they start to fort. taking out 2 enemys on the way janquis and liquack. Then killing shinpeck and ryeshock. If they have spare time they can kill others inside fort as well but getting to and KILLING ryeshock is the main focus
position 5Edit
Needs to clear out the rest of the top NPCs (see above picture). Easier job than position 6 but still a challenge.
positions 1-4Edit
Their job is to clear the bottom of the map.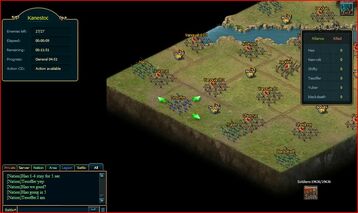 Best to have 1 good player and 1 average player for 1 & 2 and 3 & 4. this allows them to cover each other as they kill all enemys up to fort. There will be time for 1 supply if needed to kill them all but should be doable without it.
Best to have good players in position 1 and 4 but not nessesary. 3 & 4 will also need to kill some enemys in fort depending on locations and available time.
General:
General: 9 treasure chests (4:59 or less)
Colonel: 5 treasure chests (5:59 or less)
Captain:
Cadet:
Ad blocker interference detected!
Wikia is a free-to-use site that makes money from advertising. We have a modified experience for viewers using ad blockers

Wikia is not accessible if you've made further modifications. Remove the custom ad blocker rule(s) and the page will load as expected.