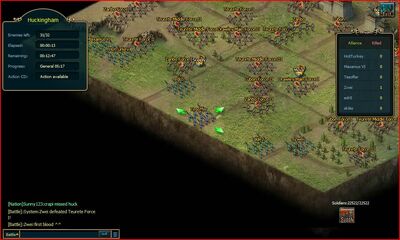 This is special battle of Lubon map.
There are 32 enemys from the lubon map to take out here.
While the enemys are stonger than Battle of Kanestoc, the rewards are better as well.
Tips to beat for best rewards.
Edit
The map is done in 3 teams
Players 1 & 2 take on the left side and left fort
Players 5 & 6 take on the right side and right fort.
Players 3 & 4 have the biggest responsibility. Not only do they need to take out the center NPC's 1 of them, usually 4th player, has to take out lubon and Teurete, the 2 toughest on the map. As well they will be expected to help out left or right sides as needed.
So best to have 4th as toughtest player, then player 1 and 6 as next toughest. 3rd as next after that then 2nd and 5th can be almost anyone. 4th player usually has the easiest path to lubon.
You get about 1-1:30mins spare on this map so a resupply if running low on troops will not affect the outcome too much
ALSO
Trees become an obstacle here. while walking thru trees it takes 15 sec instead of 10 for movement. So avoid them if possible for faster times (battle times in trees does not change)
General: 11 treasure maps (5:29 min or less)
Colonel: 6 treasure maps (6:29 min or less)
Captain:
Cadet:
Ad blocker interference detected!
Wikia is a free-to-use site that makes money from advertising. We have a modified experience for viewers using ad blockers

Wikia is not accessible if you've made further modifications. Remove the custom ad blocker rule(s) and the page will load as expected.