The Battle Arena (or just arena) is avilable from city at bottom right corner.
Once inside you will be allocated a rank based on who has joined before you, so the longer you wait, the higher your rank.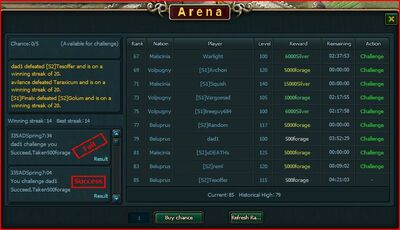 .
.
.
.
.
.
.
.
.
Once inside you can challenge players ranked higher than yourself, only the top 3 ranked players can challenge lower ranks than themselves.
Each player's rewards counts down from 4hrs 30 mins. at the end of that time they give the most reward but if online they can also collect their own reward.
Standard rewards are silver, forage and  honor .
More rare rewards are
fortune wheel spins
reputation points
gold
sacred jewels (never seen, but told they do happen... still waiting)
MCU
Levys

Top 3 ranked players are sent random rewards everyday in a mail, just like Therion Wars and these could include Fortune Wheel Spins, MCU's, Levy's etc. These rewards are over and above the ones you can earn through challenge.
There are also streak win (Wins with no personal started battle losses) bonus prizes (can only collect once per arena RESET). Resets have been set at 10 week periods.
5 wins ------ 20,000 silver 2 gold
10 wins ---- 50,000 silver 5 gold
20 wins ---- 100,000 silver 10 medals 10 gold
50 wins ---- 500,000 silver 50 medals 50 gold
100 wins -- 1,000,000 silver 100 medals 100 gold
200 wins -- 2,000,000 silver 200 medals 200 gold
300 wins -- 4,000,000 silver 300 medals 300 gold
400 wins -- 4,000,000 silver 300 medals 300 gold
+100 wins - 4,000,000 silver 300 medals 300 gold (max at 1000 wins)
Ad blocker interference detected!
Wikia is a free-to-use site that makes money from advertising. We have a modified experience for viewers using ad blockers

Wikia is not accessible if you've made further modifications. Remove the custom ad blocker rule(s) and the page will load as expected.